EVENTS Expo 2015, Behind the Scenes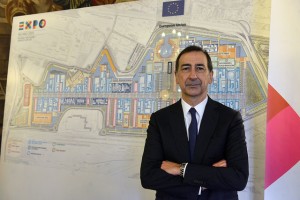 By Daniel Reichel
"Expo Milano 2015 is going to be an extraordinarily unique laboratory-showcase of agricultural, technological, scientific, and architectural excellence. From May 1 to October 31, Milan and Italy will be leading actors in the international debate about how healthy, safe and sufficient food needs to be guaranteed to everyone." The Special Commissioner for Expo 2015, Francesco Sala, explained to Pagine Ebraiche what this huge international event will mean for Milan and the whole country. "The theme, 'Feeding the Planet. Energy for Life,' contains a crucial challenge that over 130 countries will try to take on through their exhibitions, events and agri-food traditions," Sala said.
"Feeding the Planet. Energy for Life". Arguments and judicial inquiries have eclipsed for a long time the main theme of Expo 2015, which focuses on nutrition and sustainable food-producing, key issues for the international community's future. On this matter, what can this exhibition teach us?
With an increase in the Population plus water and agricultural resources scarcity, we are forced to think about strategies that guarantee healthy, safe and sufficient food for everyone. In this sense, Expo Milano 2015 will provide a platform for discussion and international debate for finding concrete solutions about food safety and environmental sustainability. All the advice and guidelines will be included in the "Carta di Milano", the formal document we are drawing up with the Italian ministry on agricultural policy. This will be an important inheritance and eventually we will add others. We are thinking about examples of Best Practices, which will be shown at the Zero Pavilion and represent models to deal with agricultural problems of today and tomorrow. Moreover, there will be a Sustainability Report, a legacy of transparency for environmental activities."
Over 140 Countries are involved in Expo. What were the difficulties in collaborating with so many different entities?
Organizing and managing the planning and realization of an event as big as Expo entails a huge effort. It is not just about planning activities for a construction site which "contains" another 53 sites of national pavilions and another 20 of clusters of companies and thematic area. The final outcome is the result of a remarkable commitment in terms of international participation thanks to the diplomatic structure of our country and the Expo 2015's participants division. We must thank the marketing and communication activities, which involved our partners in the project and the ticket sales planning promotion group.
Among the participants, Israel is one of the leading countries in terms of agricultural innovation and production sustainability. What do you think will be its contribution?
Every participant country will bring to Expo its invaluable cultural, artistic and gastronomic expertise. Israel's contribution will be decisive in terms of technological innovation developed to improve and make agricultural production more sustainable and especially in the field of hydroponic growing methods. These methods involve a reduction in water consumption, which will certainly drum up the debate about the correct employment of natural resources.
Which are your expectations in terms of attendance? How is transportation and security to be guaranteed?
We expect more than 20 million visitors, at least 12 million from Italy and other 8 million from abroad. The exposition site is only a few kilometers from downtown Milan and is easily reachable by car. It is less than one hour from Malpensa, Linate and Orio al Serio airports. Expo can be reached by public transport at the Rho Fiera Expo Milano 2015 stop or M1 metro line. Regional and high-speed trains also stop at the site. Two elevated pedestrian crosswalks will guarantee access to the site. There will be also parking areas for cars at the east access of the site. As regards security, over 100 metal detectors with sniffers will be installed at the gates and over 2,500 cameras will be activated in public and private areas, 500 along the perimeter. Each country can provide its own interior security system.
You have stressed several times the importance of building a network of events around Expo. The Jewish Community of Milan organized the cultural festival "Jewish and the city" and other events are in preparation. What is the relevance of the participation of small but well-established institutions such as the Jewish community for an international event like Expo?
These private initiatives are very important. Every institution that takes part in Expo Milano 2015 is a contribution in terms of history, tradition, culture. Technological innovation, scientific research and modernity need the background of knowledge that people have developed over time
Once Expo is over, what will happen to the exposition site?
There are a lot of projects being developed for post-Expo. One is to move some departments of the University of Milan there. Others are talking about a stadium. In any event Arexpo is responsible for the future of the exposition site. My wish is that the message and the values that we communicate during the six months of Expo won't dry up with the closure of this showcase event.