NEWS Nice Remembers Angelo Donati, an Italian Hero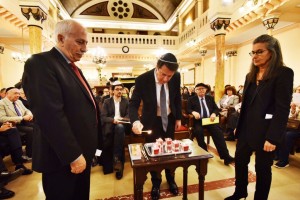 By Adam Smulevich
The city of Nice celebrated the bravery of Angelo Donati (1885-1960), a Jewish Italian banker, philanthropist and diplomat. Donati saved many Jews from the Nazi persecution in Italian-occupied France between 1942 and 1943. To honor his memory, a two-day event was held, including a conference at the university, a religious ceremony at the synagogue, and the dedication of a plaque on the building where he lived on the Promenade des anglais.
Among the participants at the events, coordinated by Viviane Viterbo Harrosh, there was the famous Nazi hunter, Serge Klarsfeld, Mayor Christian Estrosi, Counselors of the Union of Italian Jewish Communities Giorgio Sacerdoti and Giorgio Mortara.
As we were reminded Donati also served as a diplomat of the Republic of San Marino before and after World War Two and was a key reference point for the local Committee for help to refugees (« Committee Dubouchage »). He also succeeded in allowing 2,500 Jews to flee from Nice, transferring them in protected areas, away from German control.
Thank to the information received by Donati, the general consul of Italy, Alberto Malisse, was in fact able to oppose the decisions of French authorities which wanted to deport the Jews to Poland under Nazi pressures.
In 1943 Donati also tried to help thousands of Jews leave from southern France to travel to Palestine, passing through Italy. He had to give up after the armistice signed by the king with the Allies. Wanted by the Nazis, he escaped from Italy to Switzerland where he kept working in strong connection with the International Red Cross.
As mayor Estrosi stressed, Donati "has been a model of courage, dignity and strength."