MEDIA Pagine Ebraiche, Looking Back at 5775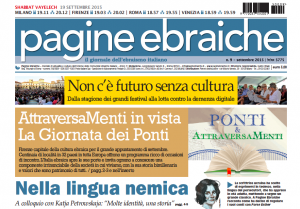 By Rachel Silvera
The September issue of Pagine Ebraiche looks back at the year 5775, which is about to end (Rosh Hashanah, the Jewish New year falls on September 13). 5775 has been a difficult year, marked by bloody terrorist attacks, political turmoil and the loss of some notables of Italian Jewry. But there have also been bright sides and reasons to look at the future with confidence and positive attitude.
The special section of the issue "Facts and People", edited by Daniel Reichel, shows the readers what happened this year through a monthly overview, presenting insights on the most important issues, as well as comments authored by Pagine Ebraiche's contributors.
Demographer Sergio Della Pergola explains how 5775 has been for Israel, a year marked by deep loneliness, with the country facing a crisis in foreign policy (mentioning for example the nuclear agreement with Iran and the resulting contrast between Obama and Netanyahu) and domestic politics (considering the recent events in Kfar Douma and the attack during the gay pride parade in Jerusalem).
Along with Della Pergola, David Bidussa explains the concept of "bridges", Anna Foa investigates the dialogue between religions, Anna Segre, as well as Francesco Lucrezi, comments the latest episodes of violence in Israel does too. Alberto Heimler and Renzo Bandinelli offer their opinion on the appointment of Fiamma Nirenstein as the next ambassador of Israel to Italy, while Davide Assael talks about identity. Luca Michelini shares with readers a case of digital dementia that involved him personally and Saul Meghnagi reflects on the role of young people in the perspective of the Association Hans Jonas.
Recently the Ministry of Cultural Heritage and Activities and Tourism gave seven million euros to advance the building of the National Museum of Italian Judaism and the Holocaust (Meis) in Ferrara. Massimo Maisto, Ferrara's deputy mayor and board member of Meis commented: "The sum itself – he explained- is significant in economic terms. But it is also the recognition of the role played by our national and international museum: the proof in the fact that the Meis appears alongside Italian monuments such as the Uffizi Museum and the Colosseum. "
The European Day of Jewish Culture, coordinated by the Union of Italian Jewish Communities (UCEI), will be celebrated on September 6, led by Florence, a city historically chosen to develop the theme of this edition: "Bridges and Crossovers". Talking about it on Pagine Ebraiche are, among others, the vice-president of the UCEI Roberto Jarach and president of the Jewish community of Florence Sara Cividalli.
Katja Petrowskaja, author of the best seller "Maybe Esther" is the protagonist of the interview of the month. Petrowskaja explains her choice of writing in German, and the rediscovery of her family Jewish roots.