NEWS Last Survivor of the October 16 Nazi Raid in Rome Has Passed Away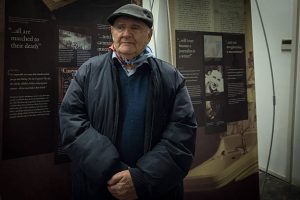 By Pagine Ebraiche staff
Lello Di Segni, the last survivor of the Nazi raid of Rome's ghetto that took place on October 16, 1943, passed away at the age of 91 last Friday. As the result of the raid, over a 1,000 Roman Jews were arrested and sent to Auschwitz. Just sixteen returned.
The death of Di Segni, who has been remembered among others by Italian Prime Minister Giuseppe Conte, has prompted heartfelt condolences from many public figures. His death marks the end of an era – some noticed. The memory of October 16, the darkest page of the Shoah in Italy, now lies exclusively with the new generations.
"In these hours of deep sorrow, for the entire Italian and Roman Jewish community, I would like to address a deeply felt and grateful thought to Lello for his words, his courage, his example, and for all that he has taught us in these years, without ever turning away. We are now called to keep his legacy with the greatest awareness," highlighted the President of the Union of Jewish Communities Noemi Di Segni.
"His loss, as well as being painful for our Community, is unfortunately a sign of the need for attention and a warning to future generations. With him, the historical memory of those who witnessed the raid of October 16 and came back to recount it has disappeared," said Ruth Dureghello, the President of the Jewish Community of Rome.