PORTRAITS Emanuele Pacifici, a Smile for Italian Jewish Life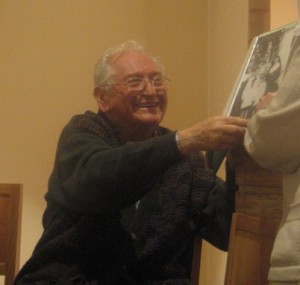 By Adam Smulevich
On the first anniversary of the death of Emanuele Pacifici (1931-2014), the Jewish Community of Rome remembered this historical figure of Jewish life in Italy, through a commemorative Limmud hosted in Bet Michael synagogue.
Born in Rome in 1931, son of rav Riccardo Pacifici and Wanda Abenaim (both deported and killed in Auschwitz-Birkenau) and father of the current president of the Jewish Community, Emanuele survived persecution by hiding in the Catholic College of Santa Marta in Settignano (Florence). On October 9, 1982, he also survived the attack on the Great Synagogue of Rome carried out by Palestinian terrorists. The day that Stefano Gaj Taché, a two years old Jewish child was killed.
Emanuele Pacifici dedicated much effort to reconstructing the history of Jewish communities in Italy. Particulary communities which had disappeared. He created relevant documentation about the tenure of Rav Elio Toaff, the Chief Rabbi of Rome. Pacifici's archives – as it was remembered during the Limmud – were always open to anyone who asked to see them.
"My father had never focused on the tragedies of his life, he always had a big smile and the will to go on," his son Riccardo said.
Among the guests at the ceremony, joined by many rabbis, including the current chief rabbi of Rome Riccardo Di Segni, was also the president of the Union of Italian Jewish Communities Renzo Gattegna.
"For many of us who knew him, Emanuele Pacifici had been a great example of life, generosity and Jewish commitment," Gattegna said when Pacifici passed away.