Italy's Jews mourn for Renzo Gattegna, a champion for dialogue and tolerance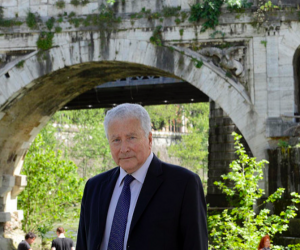 Renzo Gattegna, former president of the Union of Italian Jewish Communities – UCEI, died in Rome last week. A civil lawyer, he was born in 1939 in Rome and had been president of UCEI from 2006 to 2016 for three terms. His death leaves an immense void in the Italian Jewish world and in Italian society as a whole. As the Italian President Sergio Mattarella highlighted in a message, through the long years he presided the Union of Italian Jewish Communities his commitment "lavished with intelligence, courtesy and balance". "His way of being and doing has always been to me a constant teaching and will always be", said the Presidente of UCEI Noemi Di Segni. "The whole country mourns him, and his loss as leader of Italian Judaism, as a citizen, professional, husband, father, and grandfather will be overwhelming".
During his experience at the top of UCEI, Renzo Gattegna worked intensely to make the Jewish world a leading player in national life through initiatives aimed at fostering dialogue, encounter, and confrontation of ideas, which he always carried on head-on, being fully aware of the immense legacy of over two thousand years of history and roots. He always showed firm leadership, willingness to listen, enhancement of pluralism, and ability to influence the major issues of public debate. These were the ten years of Gattegna, a figure of immense human value as well as an excellent diplomat and mediator between different positions.
"Judaism – he warned in his last end of mandate report – must retain its original characteristics of rejection of any form of idolatry and of reconciling rigor and flexibility, leaving, as the Talmud teaches, ample space for philosophical dissertation, scientific research and the freedom to interpret and develop the debate as a positive and indispensable value, respecting the different currents of thought, but always maintaining the ability to bring everything back to unity".
While deeply respecting the roots of Jewish identity, he always kept his open mind and never hesitated to accept the challenges of a rapidly changing society. "A future of Judaism worth of its universal values and its glorious and centuries-old traditions – he said – will not exist without leaving behind any form of isolation, to which we are insistently called by contemporary democratic societies in which we leave and are an integral part".
Not surprisingly, the entry the prestigious Treccani Encyclopedia dedicated to Renzo Gattegna highlights that he championed "respect for the principles of State secularism and freedom and equality of minorities, fighting any form of isolation of Jewish communities within national societies and avoiding both extremisms and ideologizations of religious values".
His values and ideals inspired his government action, which was marked also by the birth of this newsroom and Pagine Ebraiche information network, of which Renzo Gattegna has been the main architect and guarantor. Without his vision and his foresight, nothing that has been achieved would have happened.
"The latest generation, born and grown up after 1945, – he wrote in his first editorial on the issue zero of Pagine Ebraiche – enjoy the privilege of having always lived in a free and democratic country and discovered the taste and the value of knowing, of being known, and of communicating. The best way to consolidate fundamental rights is in fully exercising them". From here, he added "pacific coexistence, reciprocal understanding, respect for different culture, and finally a better future may arise". In these days of mourning, we are called to take up his challenge.