IT HAPPENED TOMORROW
Welcome to the Future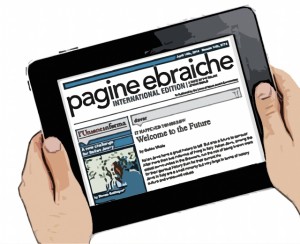 by Guido Vitale*
Italian Jews have a great history to tell. But also a future to conquer. After more than two millennia of living in Italy, Italian Jewry, one of the oldest communities in the Diaspora, runs the risk of being known more for its glorious history than for its current life.
Jews in Italy are a small minority but loom large in terms of history, culture and values. The great charm of our history, traditions and culture, certainly continues to shine, but we also need to talk of the present and the future, of the real-life problems and projects of Jews in Italy. A reality that is important to be aware of, beyond the stereotypes, in an increasingly globalized Jewish world.
This weekly international news report in English now joins the newspaper of Italian Judaism, Pagine Ebraiche, the Jewish children's newspaper DafDaf, the reporting about the Italian Jewish Communities, the portal of Italian Judaism www.moked.it and the daily news digests, Bokertov and Pagine Ebraiche24.
Welcome to the future.
*Guido Vitale is the editor-in-chief of Pagine Ebraiche