NEWS Israel To Join Expo 2015 in Milano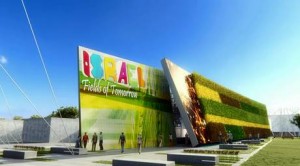 By Simone Somekh
Israel, along with 147 other countries, is set to join Expo Milano, also known as the Universal Exposition, that will take place in Milan, Italy, in 2015. The theme of the non-commercial fair will be "Feeding the Planet. Energy for life", and Israel's plan is to build a massive "living" wall that will illustrate its technological achievements within the agricultural field.
The 995 square meter wall – designed by Knafo Klimor Architects, together with the Italian PRR Architetti – is going to be an ecological installation, fully made of recyclable material, and will display agricultural products, cereals, and plants. The plants are going to be watered through an advanced, computer-controlled irrigation system. Several virtual reconstructions of the project – that will also feature a 3D movie – are already viewable online.
The installation seeks to improve the already flourishing relationship between Italy and Israel.
The main goal behind Expo 2015 is to promote sustainable development, with a particular focus on food. Each country will present their own solutions for "everyone on the planet … [to] have access to food that is healthy, safe and sufficient". The theme will be discussed through workshops and debates.
The exposition will take place from May to October 2015 and is expected to host 2 million visitors.