NEWS Italy Jewry Says No to Hosting Far Right Extremist on a Popular TV Show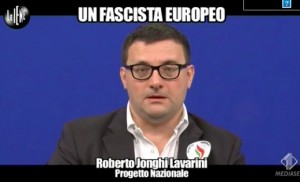 By Rossella Tercatin
The Italian mass media company Mediaset has removed from the web the video of the interview of a far-right extremist run by the television talk show "Le Iene".
The removal came after a legal complaint was filed by the President of the Union of Italian Jewish Communities (UCEI) Renzo Gattegna, both against the fascist activist and the show.
Gattegna decided to take before the judiciary "not only those who spread anti-Semitic hatred and glorification of fascism and Nazism, but also whoever, in order to increase visibility and to arouse sensation, cynically takes advantage of delusions and ramblings by irresponsibly spreading these words" as he explained in a statement.
Before filing the complaint, the attempt by the UCEI press office to confront the producers of Le Iene, a show that is extremely popular among young people, was met by indifference and evasiveness. They refused to take a step back, to disavow the interview, or to coordinate any measures to ensure giving the audience the right perspective on the statements by what the show defined as a "European fascism".
Among other things, Roberto Jonghi Lavarini during the interview praised the regime of Italy's World War II fascist dictator Benito Mussolini as "a splendid era" during which, "aside from some healthy beatings with a truncheon and a few little drinks of castor oil, nothing ever happened", while the interviewer avoided to properly challenge his statements (for instance, the interviewer did not mention the Racial Laws issued by the Fascist regime). "Jews have been persecuted for 3,000 years by every people in the world" added Lavarini, underlining that "the six million Jewish victims of the Holocaust, died because the Nazis were 'precise' and 'well organized'."
According to AdnKronos news agency, the producer replied "If someone wants to take us to court for doing our job well, then we will defend ourselves"
However, after the complaint, the video of the interview was removed from the web within a few hours.
JTA contributed to this report