DIALOGUE A Challenge to Barbaric Extremism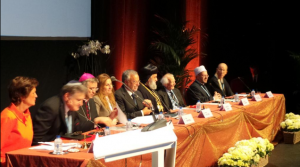 By Lisa Palmieri Billig*
The St. Egidio Community's annual meeting of the world's religious leaders this year is taking place in Antwerp, a city of 506,000 inhabitants, 171 different nationalities, with 28% of the population (about 163,417 people) belonging to an ethnic minority. For percentages of ethnic and religious diversity, this comparatively small city of Antwerp comes third only after Amsterdam and New York.
There are 178 Christian churches of all denominations (Catholic, Protestant , Evangelical, Orthodox), 48 mosques, 32 synagogues, various Buddhist, Hindu and Jain temples as well as humanist and secular places of contemplation — including mysterious categories such as ¨"The Spiritual Skeptic¨¨ – (a sign over a storefront window that caught our attention as we were entering city center by bus).
Yet, according to the magistrate who heads Belgium's anti terrorism department, the number of Belgians who left or are expected to leave to fight on the side of ISIS in Syria total 650 (including Belgians of foreign birth and native converts to Islam) out of a total population of 11 million. Compared to the 850 who left from France with its total population of 65 million, we can conclude that there is a heavy presence of Islamist fanaticism in this country.
It is perhaps no coincidence that the recent terrorist murder in the Jewish Museum of Brussels was apparently connected to the horrible beheadings of journalists in Iraq.
In this context the Mayor of Antwerp has bravely accepted the challenge of hosting a world encounter of religious leaders for an international meeting entitled "Peace is the Future".
In the next few days, in various places in the city, 25 panels will take place on burningly topical subjects such as "Religions and Violence", "Economy in the service of Peace", "Sustainable Development and the Fight against Poverty in the 21st Century", "Nigeria: exiting from the tunnel of violence" as well as more strictly religious, philosophical and social concerns such as "Prayer saves the World", "Religions and Cultures in Dialogue on the Value of Life" or "The Culture of Living Together — to be held at the Welcoming Center for Refugees of the Red Cross.
European statesmen, top religious authorities, cultural leaders from all over the world and the voices of today's persecuted populations will be heard at the opening assembly and during subsequent panels. They include among many others Herman Van Rompuy, President of the European Council and Antonio Tajani Vice President of the European Parliament; Vian Dakheel of the persecuted Yazidi Commmunity and member of Iraq's parliament; Cardinal Paul Poupard, Bishop Ambrogio Spreafico plus several Belgian bishops, Zygmunt Bauman, (Polish intellectual and writer); the Argentinian Rabbi Abraham Skorka, Rabbi David Rosen, AJC's international director for Interreligious Affairs (among other Jewish and Israeli participants such as Rabbi Avraham Steinberg of Hebrew University; Albert Guigui, Chief Rabbi Belgium; Rabbi Israel Singer; Rabbi Avichai Apel of Germany; Oded Wiener former director of Israeli Rabbinate, etc.); plus the Grand Mufti of Egypt; imams and intellectuals from Pakistan, Tunisia, Lebanon, and other Near East, African and Asian countries, and representatives of the oriental religions. A message from Pope Francis was read at the opening ceremony .
As customary, a multi-religious prayer for peace in different locations followed by a closing ceremony in the central square will end the meeting with a final peace appeal and concluding speeches by Johan Bonny, the Bishop of Antwerp; Martin Schulz, President of the European Parliament and Andrea Riccardi, founder of the Community of Sant'Egidio.
*Lisa Palmieri Billig is the American Jewish Committee Representative in Italy and Liaison to the Holy See.