Italian Word of the Week CULTURA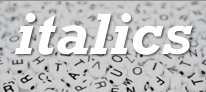 By Daniela Gross
The word of the day is "cultura" not for its linguistic implications, so intuitive (its translation is "culture"), but because today the "cultura" has been the leitmotiv both for the Italian and the European Jewry. Today, during the "European Day of Jewish Culture" (in Italian "Giornata europea della cultura ebraica"), the most beautiful and interesting Jewish places all across the Old Continent opened their doors and the Communities promoted meetings, exhibits and artistic events aimed to dialogue with the society and to get to know better each other.
This issue of Pagine Ebraiche International covers only a part of many of the appointments set today across Italy but it is enough to taste the importance of this big event that any years recalls about 50,000 visitors: about one fourth of the European audience. In the last ten years Italians got used to wait to the "Giornata europea della cultura ebraica" as an opportunity to visit the magnificent artistic and historical patrimony of the Italian Jewish world, to come into contact with the Communities and their volunteers who, with admirable commitment, handle the events.
In this day the ancient culture and tradition of the Italian Jews are on the spot and, even in bad times, it is a day of joy and hope. We are deeply conscious, in fact, that we can meet each other, communicate and fight some common clichés only through culture: the most efficient, deep and universal mean we can rely on.