IT HAPPENED TOMORROW An Exemplary Ruling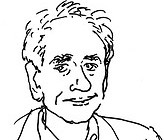 By Guido Vitale
In a landmark ruling issued in October (number 238/2014), the Italian Constitutional Court declared unconstitutional the Italian laws that prevented victims of Nazi war crimes from taking legal action against the German state in the Italian Civil Courts to obtain compensation.
On the basis of the principles established by this sentence, the rule of State immunity can no longer be considered valid in the cases of war crimes, crimes against humanity, and other actions prejudicial to the inviolable fundamental right guaranteed by the Italian Constitution.
The leadership of the Union of Italian Jewish Communities has declared that this is an exemplary ruling of great moral value, which does justice to the victims of persecution and genocide and their descendants. This is a ruling that calls on all states to confront and to respect the values contained in the Constitution that the nascent Italian Republic enacted in 1948, following the final defeat of the Nazi and Fascist dictatorships and their racist policy of systematic extermination of entire populations as a practice of conquest and subjugation.
Italian Jews believe that this ruling is a further step towards freedom and equality of all human beings and towards removing an obstacle to the course of justice.
The sentence of the Italian Constitutional Court specifically relates to the case of 244 civilians who were murdered by German soldiers on June 29, 1944, in the town of Civitella in Val di Chiana, Cornia and San Pancrazio. However it is clear that the newly established principle that denies immunity to states accused of criminal acts against the civilian population is likely to trigger a number of other civil actions for compensation. There is now an expectation that the ruling will cause a clash with the German government, which does not seem willing to recognize the principles of the Italian Constitution, and especially the International Court of Justice in The Hague which in 2012 had confirmed state immunity at the request of the German government.
However things develop, the decision of the Constitutional Court of Rome, signed by its President Giuseppe Tesauro, has the merit of drawing attention to the principle that crimes committed by the Nazi and Fascist dictatorships can never be forgotten or covered by impunity, and that justice must not bow to the demands of governments.