IT HAPPENED TOMORROW Valued Colleagues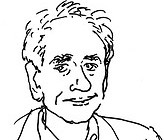 By Guido Vitale*
Our colleagues Ada Treves and Rossella Tercatin, journalists whose professional development started in our newsroom at the Union of Italian Jewish Communities, have both recently published extremely interesting articles in other newspapers.
The byline of Ada appeared in the prestigious monthly "IL- Intelligence in Lifestyle", published by "Il Sole 24 Ore", Italy's main financial daily ("Graffette per tutti").
And that of Rossella appeared in the leading Israeli online newspaper, "Times of Israel" ("Italian town's Arab Street decked with menorahs for Xmas").
For us there couldn't have been a better Hanukkah present.

*Guido Vitale is the editor-in-chief of Pagine Ebraiche.