Italian Word of the Week BELLA CIAO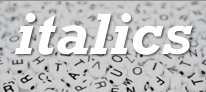 By Daniela Gross
If you followed the news last week about the recent terrorist attacks in Paris and its victims, maybe you encountered these two Italian words: "Bella Ciao". It's the title of a popular Italian partisan hymn played during the commemoration ceremony for Stephan Charbonnier.
Charbonnier, also known as Charb, director of the weekly magazine Charlie Hebdo and a cartoonist himself, was brutally murdered by the jihadists.
Why did the musicians there, most of them his close friends, choose to play that song? Maybe the answer is related to the long, and sometimes complicated, story of "Bella Ciao". Sung by the anti-fascist resistance movement active in Italy between 1943 and 1945, it dates back to the beginnings of the '900. The author of the lyrics is unknown. The music is based on a folk song sung by rice-weeders on the River Po basin.
After World War II, this hymn was now and then disputed, considered too lefty, too extremist, not meaningful and so on. But when the democracy is challenged, as a mysterious underground river, "Bella Ciao" reappears and once again speaks us of freedom. Incidentally, "Bella Ciao" was played also during the commemoration of Tignous, another of the Charlie Hebdo's cartoonist slaughtered by the terrorists.