NEWS A Day for the Righteous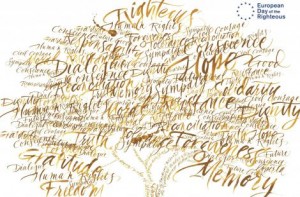 By Francesca Matalon
"The people that we honor today are in love; they love justice and democracy". This is how the mayor of Milan, Giuliano Pisapia opened the inauguration of the commemorative trees and stones dedicated to The Righteous Among the Nations, by the Italian organization Gariwo in the Garden of the Righteous Among the Nations in Milan on Friday, March 6 during the third annual European Day of the Righteous.
Among the Righteous being remembered was Ghayath Mattar and Rocco Chinnici. The first was a young pacifist killed in Syria in 2011. He gave flowers to soldiers as a wish for dialogue. Rocco Chinnici, the Sicilian magistrate killed in 1983 in his battle against the mafia was remembered through the words of his daughter Caterina and his son Giovanni.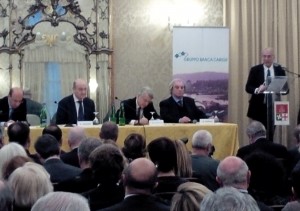 "The sun shining bright this morning is sending us the message that we can always make it through and that our destiny is in our own hands," said Gabriele Nissim, Gariwo president.
"Today and tomorrow. The Righteous are always necessary" was this year's theme. "A call, after the recent terrorist attacks against Jews, Arabs and Christians from Paris to Copenhagen and from Iraq, Libya and Syria. We must remember the names of all those moral examples who couragiously tried to save lives and protect human dignity," the organization explains.
Among these figures is also Razan Zaitouneh, a Syrian lawyer and human rights activist kidnapped in 2013 by a group of jihadist extremists. Her story was told by her elder sister. Pietro Kuciukian, honorary Consul of Armenia told the story of Mehmet Gelal Bey, the Turkish Mayor of Aleppo who fought against his government during the Armenian genocide in 1915, whose 100th anniversary is celebrated this year.
"Remembering the Turkish people who saved Armenians and those who continue to fight against the denial of what happened is a pressing issue," Nissim added.
A tree and a stone were also dedicated to the men and women of the Coast Guard: "In this time of international crisis, the new Righteous are also those who provide aid to the migrants escaping hunger and persecutions."
A touching testimony was also given by Alganesh Fessaha, an Italian-Eritrean activist for human rights. She risked her life to help prisoners in Africa and migrants with their families on the Italian island of Lampedusa after the tragic shipwreck in 2013.
The large audience was mainly composed of high school students. Roberto Jarach, vice president of the Union of Italian Jewish Communities (UCEI) and the UCEI Board Member Giorgio Mortara were also present.