LEADERS Fresh Air for the Italian Jewish Youth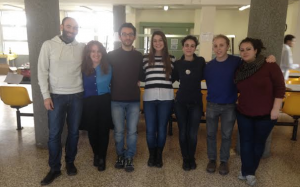 By Francesca Matalon
The new board of the Italian Union of Jewish Students (UGEI) elected last week in Milan is a breath of fresh air for Italian Jewish youth (there had not been a board since the Congress which took place in Florence last year which had no candidates to take over the organization).
The new Board is composed of seven students and young professionals; four women and three men from all over Italy, from Turin to Milan and Rome. The new president is Talia Bidussa, who has already been in charge as a member of last year's board and is now ready to guide the Union. "Working last year as a board member was a very important professional experience: not only did I learn new organizational skills, but the daily contact with the people I worked with gradually became a personal rather than a working matter," she said.
"UGEI is rather like a big container that we have at our disposal. It is up to us to fill and define it. In very few other environments is it possible to step out from our comfort zone and get to know different people and ideas, and thus to grow up," Talia describes her view on Ugei. She is very positive about the future: "There is no point denying that lately UGEI has gone through a crisis, but on the other hand it can give us the possibility to re-think the role of the organization, to bring it closer to the needs of Italian Jewish youth, and for it to be an incentive to try and do better". Better in terms of participation, engaging with a larger number of Italian Jewish students, of representation in being able to speak on behalf of all of them.
Bidussa was born in Venice but has always lived in Milan, where she attends law school. Among other activities she volunteers as a teacher in a prison. She has always been involved in youth movements and was a shlichonah of Hashomer Hatzair until a few months ago. When she started to take part in UGEI events she immediately presented herself as a candidate to become a board member. "Many of us, once we finish high school and our time in youth movements, such Hashomer Hatzair or Bene Akiva, don't know how to cultivate what we have learned from that experience", she noted. "UGEI is just the right context where one can apply those important values, such as the sense of responsibility and the commitment to work for others both fundamental in a community".
"I hope that the board and I will live this experience with serenity and continue the good job that was done by last year's board and as always with enthusiasm," she concludes.