IT HAPPENED TOMORROW Klaus Wagenbach, an Independent Publisher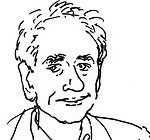 By Guido Vitale
Among the many valuable insights that the Turin Book Fair offered us this year, the exhibition dedicated to the fiftieth anniversary of the independent Berlin-based publisher Klaus Wagenbach struck a chord with me.
I remember meeting Wagenbach at his office in a Berlin still dominated by the Wall. After almost thirty years, I clearly recall the warmth and affection that this great German publisher showed for Jewish and Italian culture. It almost seemed that Klaus had inherited the deep sincerity of Franz Kafka, of whom he was one of the greatest scholars.
An unforgettable image was included in the exhibition: Wagenbach delivering a eulogy for his colleague Giangiacomo Feltrinelli. His description of that day gives us a measure of Italy at that time and the courage of many of our publishers. "In 1972 my friend Giangiacomo Feltrinelli died in very obscure circumstances. During the funeral, the Monumental Cemetery of Milan was surrounded by an array of police forces and armoured vehicles. Of his fellow publishers, among whom he had until recently been held in high esteem, only two attended the funeral. So it fell to me improvise a eulogy…".