NEWS Netanyahu in Florence, Behind the Scenes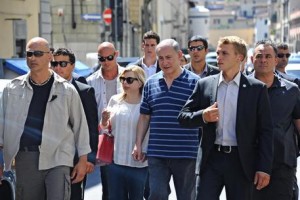 By Adam Smulevich
"What a great place, I've got an idea: why don't we celebrate our 25th wedding anniversary here next year?" Visiting the fascinating synagogue of Florence, Sarah Netanyahu, alongside her husband didn't hide her enthusiasm. The couple visited the synagogue at the end of the Shabbat service during a relaxed day as tourists in Florence.
Welcoming the Netanyahus was a delegation of the local Jewish Community composed of president Sara Cividalli, chief rabbi Joseph Levi with his wife Shulamit and his daughter Tamar, general secretary Emanuele Viterbo, architect Renzo Funaro, city councilor Sara Funaro.
"Baruchim Habaim (Welcome) Bibi and Sara," they said. The couple, escorted into the synagogue, showed appreciation for its Moorish architecture and its history, recounted in detail step by step.
The Rabbi spoke in Hebrew and brought the couple to the Aron HaQodesh, the Ark.
The Netanyahus also stopped at the museum the collection of memorabilia of the Florentine community, guided by architect Funaro, who is also the vice-president of the Foundation of Jewish Cultural Heritage in Italy. Funaro explained the work that led to the full restoration of the synagogue, which was completed when the mayor of Florence was the current prime minister of Italy, Matteo Renzi.
To go back to ground floor Bibi and his wife took the elevator, programmed in "Shabbat mode" in order to not violate the rules of the Jewish day of rest. Funaro said to Bibi: "You know, Mr. President, in the nineteenth century we had an elevator that worked with water."
Outside the synagogue the group stopped before the inscription of the names of the Jews sent to death camps. A name, among others, hits Bibi: Nathan Cassuto, back then, chief rabbi of the city who died in Auschwitz. His son David, whom Bibi knows well, was deputy mayor of Jerusalem.
Then it was time to say goodbye. "We would love to have you back", Cividalli said.