NEWS Tornado Hit Leghorn's Synagogue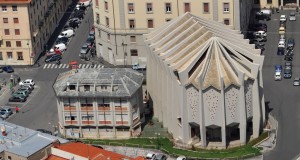 By Adam Smulevich
Last week, a small tornado damaged the synagogue of Leghorn, Tuscany, the hometown of legendary rabbi Elio Toaff (1915-2015).
The storm destroyed many windows of the building, which was designed by Roman architect Angelo Di Castro and inaugurated in 1962. The synagogue stands on the site of what was the city's magnificent seventeenth century old synagogue (fatally hit during a bombing raid by Allies in World War II).
"Unfortunately, the tornado that hit the city left no escape. There is much sadness because we lost part of our history. At the same time we are aware that it could have been worse, much worse, if the storm had occurred only a few minutes later when the synagogue would have been full of people," president of local Jewish community Vittorio Mosseri told Pagine Ebraiche.
The religious services for Shemini Atzeret and Simchat Torah were therefore moved in the basement hall of Oratorio Lampronti (a place full of precious local memorabilia), traditionally used during winter.
"As long as people's safety is not fully guaranteed in the main hall, services will take place there," president Mosseri explained.
Immediate solidarity to the Jewish community was declared by mayor Philip Nogarin, who guaranteed his personal commitment to restore the use of the synagogue as soon as possible.