NEWS "In France, in Israel and in Mali, Terror Harbors the Same Goals"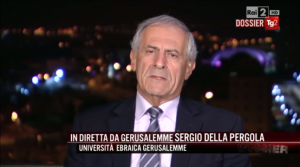 By Rossella Tercatin
The Italian-Israeli prominent demographer Sergio Della Pergola was interviewed on Channel 2 of Italian National TV on Saturday night. He pointed out how the terror that targets Israel is the same terror that targets France, Mali and many countries all over the world.
"Israel cannot be kept separated. The strategy of terrorism of not granting people even a single day of peace is the same in France, Israel and Mali, where, by the way an Israeli educator was also killed," Della Pergola said.
The professor of the Hebrew University of Jerusalem was also asked to report on how Israelis cope with terror, and how they are coping with the latest wave of attacks both in Israel and in Europe.
"Obviously people have concerns for their personal safety with stabbings and attacks happening so often. But life goes on," he said.
"Israel is always on the alert and in these days a little more than usual. However Israel's reaction is always about going into action. For example, they have already outlawed Morabitun, the group who carried out the attack in Mali."
Della Pergola finally read a Sura from the Quran and a passage from the Hamas Charter, which advocate the killing of Christians and Jews. "These texts can be very dangerous in the wrong hands. We must always be vigilant."