NEWS A Productive Meeting for UCEI Council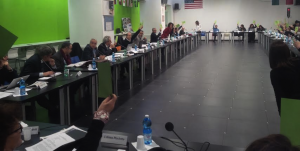 By Daniel Reichel
Future prospects, social commitment, and strengthening security were among the issues that were debated during the meeting of the Council of the Union of Italian Jewish Communities (UCEI) that took place in Rome last week.
Several items were on the agenda, starting with the presentation of the budget for 2016. The budget was approved by the Council with an overwhelming majority of yeas (there were just three abstentions and no votes against).
Other issues on the agenda were the examination and approval of amendments to two articles of the UCEI Statute, the approval of allocation for financing some projects and institutions, the appointment of the Central Commission for Elections and the settlement of the date of the elections (scheduled in Spring 2016).
The meeting started with a speech by the UCEI president Renzo Gattegna, which was followed by the presentation of the Budget by UCEI budget councilor Noemi Di Segni. Di Segni offered an overview of the economic situation of the institution and of Jewish reality. She stressed that the issue of security has acquired additional significance in light of what happened in Milan (where a Jewish man was stabbed for reasons that are still not clear) and especially after the attacks in Paris in November.
In the last weeks, explained the councilor, there has been a strong collaboration with the twenty Italian Communities to implement their security systems. Other issues that are very urgent, reminded Di Segni, are those associated with the social emergency and the need to support families in difficulty. For them the UCEI has created some specific projects to provide answers to these specific problems.