NEWS Italian Minister of Education Commits to Strengthen Shoah Studies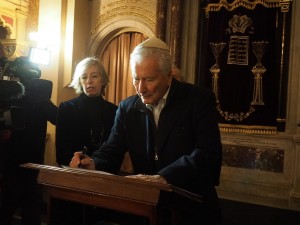 By Adam Smulevich
Last week the president of the Union of Italian Jewish Communities Renzo Gattegna and the Italian minister of Education Stefania Giannini signed an agreement with the goal of strengthening the study of the Holocaust in schools. The agreement was signed during a trip that brought over 130 students from all over the country to Krakow and Auschwitz-Birkenau. Joining the students were Shoah survivors Sami Modiano, and sisters Andra and Tatiana Bucci.
The project, as both Gattegna and Giannini highlighted, renews the mutual commitment to continue in the effort of spreading Holocaust knowledge. Among the projects are a summer school for teachers and the creation of a National Observatory for the development of initiatives on the topic together with the recognition of those already developed. The aim is the creation of an online portal for the sharing of information.
"The goal we have set ourselves is to strengthen the awareness of a generation of students about what happened not all so many years ago in Europe. This is a challenge that requires time, but which has a solid point of reference in the cooperation established in recent years with the minister," president Gattegna said.
"The memory of the Shoah prepares us in the defense of human dignity. This is the reason we need to transfer it to new generations," minister Giannini commented.
Among the participants on the trip was the president of the Italian Chamber of Deputies Laura Boldrini. She remembered how the transition from words to violence could be "very short" and stressed the importance of not underestimating racist jokes and provocations.
The two-day trip was very intensive and full of emotions, a step forward to understanding the relevance of the message that comes from that dramatic period. As rav Roberto Della Rocca highlighted: "We are here not to make you cry or feel pity for us. We are here to teach you how to reject indifference."
In the delegation were also UCEI counselor Victor Magiar, a representative from the Prime Minister's office, Anna Nardini, ambassadors Sandro De Bernardin and Alessandro De Pedys, and historian Alberto Melloni.