NEWS Prominent Italian History Research Center Appoints New Director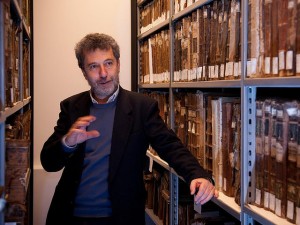 By Daniel Reichel
 
Historian Gadi Luzzatto Voghera, a leading expert in the field of Italian Jewish history, has been appointed the next director of the Center for Jewish Contemporary Documentation (CDEC) of Milan. The CDEC is aimed at promoting the study of Jewish history, culture and society, with special emphasis on Italy and contemporary times, and at collecting relevant documentation.
 
"The CDEC is a vital center for the national Jewish culture," Luzzatto Voghera told Pagine Ebraiche after his designation.  "It's an institution that has many skills within it, all to be taken advantage of. Its work is important both for Italian Jewry and Italian society in general. For example, one of the crucial issues among the CDEC's fields of expertise is anti-Semitism: it is a phenomenon that is rapidly changing and needs to be studied."
 
Luzzatto Voghera, who is a professor of Modern Italian History, History of the Jews of Italy and Italian Emigration and Immigration at Boston University in Padua, and a Pagine Ebraiche columnist, will succeed the current director Michele Sarfatti on September 1, 2016.
 
Sarfatti congratulated the new director on his appointment. "I am sure that he will lead the CDEC well and that he will bring in new energy. I am convinced that cultural institutions' leadership has to be renewed on a frequent basis: renewal is vital."
 
"I have a lot to learn from Michele Sarfatti, who has made a great contribution to developing the CDEC. All the people working here are an added value. Probably some things will change because culture and how we communicate it have changed," said Luzzatto Voghera.