VENICE AND THE GHETTO A Special Exhibit Narrates Centuries of Jewish History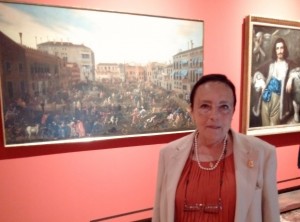 By Pagine Ebraiche staff
The exhibit "Venice, the Jews and Europe – 1516-2016" opened on Sunday, June 19. Curated by Donatella Calabi, the exhibit portrays Jewish life in Venice at the time of the Ghetto and beyond. The venue is the historic Palazzo Ducale; the very same building where the decree establishing the first Ghetto in history was signed in 1516.
 
The exhibit also focuses on the relations between Venetian Jews and the rest of contemporary society in Venice and in Europe. It features original documents, artifacts as well as books and paintings (among the artists exhibited are: Bellini, Carpaccio, Foraboschi, Hayez, Poletti, Balla, Wildt, Chagall).
 
The Jewish Community of Venice offered a crucial contribution in putting together the exhibit, which was organized with the cooperation of MUVE (Fondazione Musei Civici di Venezia).
Other contributors to the support of Venetian Heritage were, the David Berg Foundation, Save Venice, Gladys Krieble, the Delmas Foundation, and Fondazione di Venezia.
 Speaking at the inaugural event were professor Calabi, president of the Jewish Community Paolo Gnignati, chief rabbi Scialom Bahbout, board member of the Union of Italian Jewish Communities David Romanin Jacur, director of Civic Museums Gabriella Belli, president of MUVE Mariacristina Gribaudi.
The exhibit will be open until November 13, 2016 and is part of the initiatives to commemorate the 500th anniversary of the establishment of the Ghetto in Venice.
There is a catalogue in both in Italian and in English published by Marsilio.