N President of Italian Jewish Communities Meets President of Italy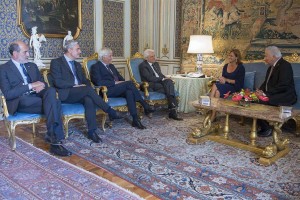 By Pagine Ebraiche staff
 
The president of the Union of Italian Jewish Communities Noemi Di Segni met with the President of the Italian Republic, Sergio Mattarella, at the Quirinale Palace last week.
 
Di Segni, who was elected last June as the new head of the umbrella organization that groups and represents the 21 Italian Communities was accompanied by her predecessor Renzo Gattegna.
 
Among the topics discussed during the meeting were the fight against Islamic terrorism, the protection of democratic values in Italy and Europe, the upcoming European Day of Jewish Culture and the role and contribution of the Jewish community to Italian society.