NEWS Giulia Spizzichino, who Brought Nazi Criminal Priebke to Justice, Dies at 90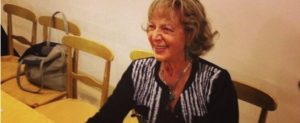 By Adam Smulevich
 
Giulia Spizzichino, a Jewish woman who brought Nazi criminal Erich Priebke to justice, passed away at the age of 90 last week. 
A crowd of people gathered in Rome to pay their last respects to Spizzichino, who lost 26 members of her family in the Shoah and in the massacre at the Fosse Ardeatine in which Nazis, under the command of captain Priebke, killed 335 civilians.  
Spizzichino, who miraculously avoided arrest many times, traveled to Argentine in the 1990s to demand the extradition of Priebke, who had been living there for decades as a normal civilian. Her battle for justice was very difficult and long, as remembered in the daily newsletter Pagine Ebraiche 24 by some of the people most involved in the matter. Among them is the former Italian Minister of Justice Giovanni Maria Flick, who had an important role in condemning Priebke to life in prison. 
"Her battle was not for vengeance; but for justice. If it was possible to bring Priebke to justice, it was primarily due to her constant efforts. Thank you again, Giulia, for what you did. We will not forget you," Flick highlighted.