NEWS Running for Memory in Rome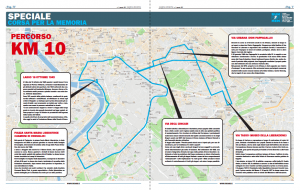 By Pagine Ebraiche staff
The ambition of the "Run for Mem" race is to promote the "Message of Memory" and the importance of Holocaust Remembrance in the entire society via a new powerful medium. With this goal in mind, the non-competitive race will take place in Rome on Sunday, January 22, 2017. The initiative is organized by the Union of Italian Jewish Communities, together with Maratona di Roma and Maccabi Italia and with the support of the Presidency of the Council of Ministers.
The race will start in the old Jewish quarter, in the square that bears the memory of the Nazi-Fascist raid of the Ghetto which took place on October 16, 1943. On that day, 1,259 members of the Jewish community including 363 men, 689 women and 207 children were captured by the Gestapo. Of these, 1,023 were deported to the Auschwitz concentration camp. Only 15 men and one woman survived.
"Run for Mem" will feature two different routes, one 3.5 kms long and the other 10 kms. The race is not about winning but about remembering what the streets and squares along the way meant at that time: horror, salvation and indifference.
A special guest of the event will be Shaul Ladany, a former Israeli athlete and university professor. He survived the Bergen-Belsen concentration camp in 1944, when he was eight years old. He was at the Olympics in 1972 at the end of his career where he survived the Munich Massacre. Since then he has never stopped walking and running.
"Sports are a way to keep alive the memory, a port for the dissemination of positive messages and values: this is the spirit of our initiative," highlighted the President of UCEI, Noemi Di Segni, introducing the race.