ITALICS Roman Culture Survives Through Seder Traditions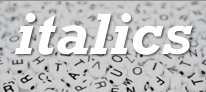 By Sarah Moosazadeh
The Jewish community in Rome is one of the oldest in Europe and is where Breman Jewish Heritage Museum community engagement director Ghila Sanders has her roots.
Rome has roughly 13,000 Jews in an overall population of about 4 million, Sanders said.
Ghila Sanders and her husband are ready for a Roman-style seder.
The Jewish community can be traced back 22 centuries to a delegation from the Maccabees who went to Rome to look for allies and decided to settle in the city, which gained influxes of cultural diversity over the centuries from events such as the Spanish Inquisition.
"Italian Jews from Rome are the oldest in Europe and come from a rich history with deeply rooted traditions," Sanders said. "It is a culturally vibrant community and more than a blend of different cuisines and customs. It's a way of living and worshipping that is solely unique to Rome."
Echoing the tagline of Rome's Jewish Museum in the basement of the Great Synagogue, she added: "One can't really know Rome until they learn about its Jewish community."
Sanders moved to Atlanta 18 years ago and still incorporates Italian cuisine and customs into her life, including Passover.
During Passover, Sanders prepares dishes composed of rice, grains and vegetables. Pomodori colriso consists of tomatoes stuffed with rice and is a staple for the Sanders family during the holiday. She also makes a lamb dish with potatoes known as abbacchio and an almond cake for dessert called torta di mandorle.
The seder plate is a bit different, with lettuce in place of bitter herbs.
The afikomen is not hidden but is placed under the tablecloth. When it is time for dessert, the afikomen is removed, placed in a box, and distributed among friends and family to keep until the following year, when they will burn it with any chametz found for good luck.
Celebrating Passover while incorporating Italian traditions is significant for Sanders in many ways. "It speaks of home. I come from a culture that values family and tradition, and I hope to pass that on to my children one day. I also think living in a different country allows you to appreciate your cultural roots much more."
She has celebrated Passover in Rome on multiple occasions, joining 40 family members as they recite the prayers and sing songs in Hebrew with occasional Italian translations.
"Everyone participates, including the kids, who are each assigned a specific role, and it inevitably becomes a performance," Sanders said.

*This article was published in the Atlanta Jewish Times on April 5,2017.