NEWS Turin Book Fair, a Story of Success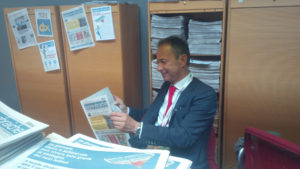 By Ada Treves
Queues everywhere, with people patiently waiting to enter the various halls where more than 1200 roundtables never go deserted, full of smiles, enthusiasm, and crowds even bigger than those seen in past editions. The numbers, at the official closing tonight, will show the dimension of the success of the "Salone", i.e. Turin Book Exhibition, but its reality has been evident since the opening, on Thursday. Pagine Ebraiche, the national Jewish monthly paper, had its first official outing in this very same place in may 2009 and has never missed a year, also thank to the Fondazione per il Libro, la Musica e la Cultura, organizer of the event, that has always hosted the newsroom, offering a space to distribute the newspapers and to meet the readers and those, interested and curious, who have looked for a contact and often asked to receive the newsletters and the printed papers.
Only a few months ago the future of the fair was undergoing a serious discussion, but the choice of the main Italian publishers to push a parallel edition in Milan and to avoid coming to Turin has given the city and the community of readers such a push that this thirtieth edition of the Salone del Libro is – as everyone keeps saying – the best ever. The atmosphere, in the huge halls of the Lingotto, is definitely positive and the work carried out over the last few months by the team of organizers has led to a result that only a few months ago seemed impossible, so that the comparison with the fair of the book organized in April in Milan is not even conceivable anymore.
Despite the tiredness, emotions and worries it is evident how Director Nicola Lagioia's smile is widening every hour, and President Massimo Bray, who is perpetually moving from a round table to a presentation to another event can be more than satisfied. And Mario Montalcini, who became chairman of the Board of Directors of the Fondazione after having guided him during the difficult months that have brought the Salone event to success and has passed his hand to Bray only in the last few weeks now is now openly smiling. And even if in the hectic hours before the official closing he's found time to stop with the journalists of the newsroom of Pagine Ebraiche and, finally sitting, half hidden behind the few remaining copies of Pagine Ebraiche, has finally been able to relax.