NEWS Fight against Anti-Semitism among the priorities for Italy's OSCE Chairmanship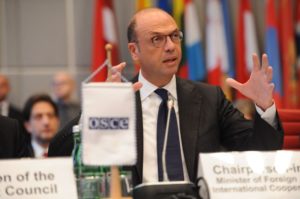 By Pagine Ebraiche staff
Italy will hold the Chairmanship of the Organization for Security and Cooperation in Europe for the year 2018.
"Strengthening multilateralism as an instrument to relaunch the "spirit of Helsinki" and to further promote peace, security, stability and co-operation is Italy's key priority for its 2018 OSCE Chairmanship," said today the Italian Foreign Minister Angelino Alfano as he took up the post of Chairperson-in-Office of the regional security organization.
Among the priorities listed by Alfano in Vienna is the fight against hatred, intolerance and anti-Semitism. In this field, the minister mentioned the event organized in cooperation with the Union of Italian Jewish Communities (UCEI) and with the Center for Jewish Contemporary Documentation (Cdec) at the Italian Foreign Ministry: the international conference on the responsibility of States and institutions in the fight against anti-Semitism. The conference will be an opportunity to share the best practices and assess the situation. The idea is to grow the forum into a permanent platform.
"We are convinced that by focusing on the implementation of OSCE principles and commitments the respect for the fundamental rights and freedoms of all individuals is a key precondition for long-lasting peace, security and sustainable development. In this regard the role of the OSCE's autonomous institutions are an extremely important added value," the Chairperson-in-Office pointed out.