NEWS Holocaust Remembrance Day Honored at the Quirinale Palace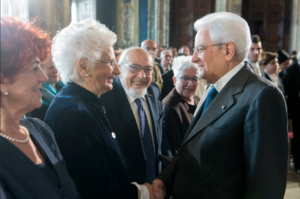 By Pagine Ebraiche staff
The official ceremony for the Holocaust Remembrance Day was held at the Quirinale Palace, residence of the President of the Italian Republic, last week.
"The Republic of Italy is not afraid of facing the history of the country because it is strong and founded and rooted in democracy," said President Sergio Mattarella, who expressed his surprise and indignation at the idea, supported by some, that the fascist regime had merits, except for "some mistakes" such as the Racist Legislation and the war. "Racism and war were not limited and casual episodes in the fascist way of thinking, but their direct and unavoidable consequence".
During the ceremony, Holocaust survivors Piero Terracina and Liliana Segre, who was appointment by Mattarella as a Senator for life a few days ago, shared the memories of their tragic experience, while Jewish Italian historian Anna Foa delivered a speech highlighting how the events of those darkest years started not with the deportation of the Jews to death camps in 1943, but with the Racist Legislation of 1938 "with the complete indifference of intellectuals, scientists, citizens, and with the controversial responsibility of the Church".
The ceremony, opened also by a speech of the President of the Union of Italian Jewish Communities (UCEI) Noemi Di Segni, was the occasion to award prizes for the best projects in the Holocaust studies in Italian schools, promoted by the UCEI.
Attending it were, among others, the President of the Senate Pietro Grasso, the President of the Chamber of Deputies Laura Boldrini, the President of the Constitutional Court Paolo Grossi, the Minister of Foreign Affairs Angelino Alfano, the Minister of Defense Roberta Pinotti, the Undersecretary for the Council of Ministers Maria Elena Boschi, many representatives of the Jewish Communities and of the association for former deportees.
The Israeli singer Noa accompanied the event with her music.