INTERNATIONAL HOLOCAUST REMEMBRANCE ALLIANCE A Conference and the Plenary in Rome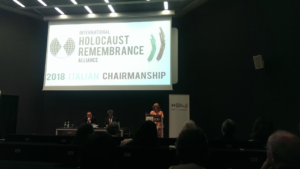 By Pagine Ebraiche Staff
A conference on the topic 'The Racial Laws: Before and After the Shoah: Models, Practices and Heritage' organized by the International Holocaust Remembrance Alliance, its' Italian chairmanship and the Ministero dell'Istruzione, dell'Università e della Ricerca was held in Rome on Sunday.
The conference took place on the eve of the first IHRA bi-annual plenary meeting under the Italian Chairmanship in Rome which will be held from May 28 to May 31, 2018. The current Chair of the IHRA is Ambassador Sandro De Bernardin.
During the four days almost 200 experts and policymakers from the IHRA 31 member countries, two liaison countries, nine observer countries, and seven international partner organizations will gather to discuss Holocaust education, research and remembrance as a contemporary political issue.
Among those who took part in the Conference on the Racial Laws were the president of the Union of the Italian Jewish Communities Noemi Di Segni, the director of the Foundation for the Center of Contemporary Jewish Documentation, Gadi Luzzatto Voghera, the secretary of the Foundation of Religious Sciences John XXIII Alberto Melloni, professor Steven T. Katz who holds the Alvin J. And Shirley Slater Chair in Jewish Holocaust Studies at Boston University, former Italian Prime Minister Giuliano Amato and historians Lucia Ceci, Francesco Cassata and Michele Sarfatti.