BECHOL LASHON Français – Le Met autorisé à garder une œuvre de Picasso vendue par un Juif fuyant la Shoah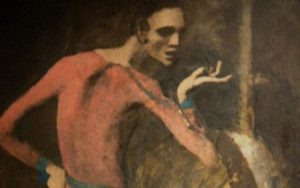 Par JTA*
Un tableau de Picasso vendu l'équivalent de 10 000 euros par un homme d'affaires juif-allemand alors qu'il fuyait les nazis pourra rester entre les murs du Metropolitan Museum of Art de New York, a jugé un tribunal.
Ce dernier a rejeté l'appel de l'arrière petite-nièce de Paul Leffmann, statuant que sa famille avait attendu trop longtemps pour demander à récupérer « L'Acteur » de Picasso.
Il serait injuste de forcer le Met à le céder, a estimé mercredi le tribunal situé à Manhattan, d'après Reuters.
Le tableau vaudrait près de 100 millions de dollars.
Paul Leffmann et sa famille avaient fui l'Allemagne nazie pour l'Italie en 1937. L'année suivante, il vendait le chef d'œuvre à deux marchands d'art pour l'équivalant de 10 000 euros afin de rejoindre la Suisse.
« L'Acteur », datant de la Période bleue de Pablo Picasso en 1904-5, avait été offert au Met en 1952.
Le musée avait reconnu le droit de propriété des Leffmann en 2011, un an après le début des poursuites engagées par la famille pour récupérer le tableau.
Laurel Zuckerman, l'arrière petite-nièce, est l'exécutrice testamentaire de l'épouse de Paul Leffmann, Alice. Elle réclamait plus de 100 millions de dollars de dommages.
En février 2018, le tribunal de district de Manhattan avait statué que la famille n'avait pas suffisamment prouvé que leur aïeul avait vendu l'œuvre sous la contrainte, ce qui aurait rendu obligatoire la cession du tableau à la famille.
*Times of Israel Français, 28 juin 2019.