ITALICS Make Your Own Sophisticated Tuna Spread, Italian Style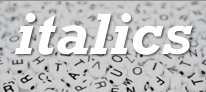 By Elana Horwich
Jews have a long history in Italy. In fact, Rome has Europe's oldest Jewish community. When the Roman Empire conquered Jerusalem 2,000 years ago, it sent the Jewish people from their holy land into the Diaspora, with different tribes settling in different regions. Jews who settled in Spain are called Sephardic, while those who ended up in Eastern Europe are known as Ashkenazi. Others went straight to Rome because, during that millennium, Rome was like New York — a big city with lots of jobs and great orgies. Most Jews went to Rome as indentured servants, working toward their freedom as they became integrated, upstanding citizens.
At various points in history, Jews from Spain came to live in Northern Italy via France, while other Spanish Jews made their way into southern Italy as merchants. The Jews contributed most notably to Italian culture in the mark they left on Italian cuisine. (You can learn more in my spiels for Chicken Crack and Sfratti.)
All this is to say that wherever you go in the entire world, Jews love a tuna sandwich.
This recipe is a lighter version of Joyce Goldstein's recipe for Crostini di Spuma di Tonno from her book "Cucina Ebraica." Its roots originate from the Jewish community in Padova.
Unlike American tuna salad, this is a whipped, fluffy tuna spread with butter and lemon. I know the concept of tuna whipped with butter is foreign to many of us, but spalmata di tonno is a delicacy in Italy. It's not that different from tuna salad with mayonnaise, only much more sophisticated. (If you want to make it even more sophisticated, you can throw some anchovies into your food processor when you whip the tuna — but even I'm not that sophisticated myself.)
Delicious on a summer day by the pool or as an outdoor lunch, these tuna crostini pair well with an Aperol spritz and are ideally served before a meal that features seafood or as an afternoon snack.
Jewish Italian Tuna Toasts
From "Meal and a Spiel: How to Be a Badass in the Kitchen"
1 (7-ounce) can Italian tuna in olive oil
3 tablespoons unsalted butter, room temperature
Zest of 1 lemon
Juice of 1 lemon
10 to 20 grinds of pepper mill, to taste
10 to 12 (1/2-inch thick) slices baguette
Olive oil for drizzling
2 tablespoons salted capers, chopped
12 pitted green olives, roughly chopped
Small handful flat-leaf parsley, chopped
Place oven rack on the second rung from the top and turn on broiler.
Combine tuna (along with the oil in the can), butter, lemon zest and juice, and pepper and zip in a food processor until it becomes a smooth paste.
Place bread slices on baking sheet and set under the broiler until golden, about a minute. Flip slices and toast the other sides. Be careful not to burn.
Drizzle oil lightly onto the bread and slather on tuna spread, as you would peanut butter. Top with the capers, olives, parsley, and extra pepper if desired.
Makes 10-12 toasts.
Make-ahead prep: Although it might lose some fluffiness, the tuna spread tastes better the next day, so don't hesitate to make it in advance. Be sure to bring it to room temperature for a couple of hours before eating. Toast and assemble the crostini as close to eating as possible.
Gluten-free variation: Replace the baguette with a gluten-free pizza crust.
Note on using multigrain bread
Italians would never make crostini or bruschetta on whole-grain bread. But no matter how good a fresh, crusty country loaf of ciabatta might be, white flour is not that healthful. The point is to eat like Italians, not look like a fat, old one. If you choose good bread, you might find that bruschetta made with multigrain bread won't feel like a runner-up to the original but a winner all its own. I find that quality whole-grain tomato bruschetta pairs well as a side dish to frittatas.

Elana Horwich is the author of "Meal and a Spiel: How to Be a Badass in the Kitchen" and the founder of the Meal and a Spiel cooking school. The article appeared in The Jewish Journal on November 6, 2019.