NEWS UCEI and the Jewish community of Milan unite to help refugee family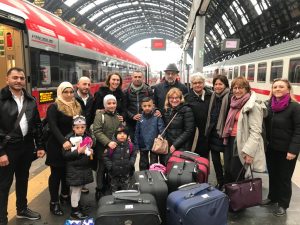 By Pagine Ebraiche staff*
The Almohammad family were fleeing war-torn Syria when, after spending some time in refugee camps in Libya, they finally found a safe place in Milan. The seven of them – two parents with four children and another relative in tow – were welcomed by the Union of the Italian Jewish Communities (UCEI) and the Jewish Community of Milan, which decided to make their contribution and shelter a family shattered by war, in line with the humanitarian corridor project promoted in 2016 by the Community of Sant'Egidio, the Federation of Evangelical Churches in Italy and Tavola Valdese. UCEI's concrete act of solidarity adds up to other reception initiatives in which Italian Judaism has already participated.
"Many Torah passages mention the duty of helping our neighbors, of helping strangers. 'And if your brother becomes poor…you shall maintain him; as a stranger and a sojourner he shall live with you' (Lev 25:35). From these last words, it is evident that the word 'brother' in the beginning should have a universal meaning. The discomfort of those who arrive is a sensitive issue for us Jews, sensitized as we are by our own history. This has been the starting point for UCEI's commitment to support communities enacting projects to help migrants and refugees," explained UCEI vice-President Giorgio Mortara (in the picture, he welcomes the Almohammed family at Milan Central Station along with Milena Santerini, coordinator for the fight against antisemitism, and others).
"This initiative is the natural extension of the work the communities of Florence, Turin and Milan have long been doing, and it will encourage the implementation of new initiatives in different contexts. The final aim is to create a subsidiarity and help network to improve the difficult situation these people found themselves in, while contributing to their integration. The assistance will also rely on collaborations with healthcare and other social volunteering organizations. Collaborating with associations which promote humanitarian corridors, and which are already engaged with the Jewish communities, such as Sant'Egidio and Tavola Valdese, was a natural choice."
The Syrian family, Muslims from Aleppo, reached Milan a few hours after arriving in Rome and will be housed in an apartment in the Southern area of town. Spread reception is decisive in a completely self-financed project which fosters refugee integration within the civil and social fabric of Italy, children and adults respectively in the school system and in the working world.
"Unaccompanied minors were housed in Florence; a family was welcomed in Turin and the collaboration with Tavola Valdese is also fostering the project; the network "Una mano per" (Help for) uniting different Jewish associations to reach the common goal of solidarity was created in Milan with Claudia Bagnarelli's coordination," explained Mortara, underlining that welcoming the Almohammad family is part of an articulate project.
"The Jewish Community of Milan is ready to get involved into actively helping others," underlined Milo Hasbani, President of the Jewish Community of Milan. "I am grateful to the Community of Sant'Egidio, which gave us this opportunity once again with this Syrian family with four children. I hope it will become a model for others to follow. We got many other Jewish associations involved, among which are B'nai B'rith, AME, the volunteering no-profit organization Federica Sharon Bizzi and the Jewish Community's youth movements Hashomer Hatzair and Benè Akiva e Joy, which all have long-standing experience in the field of voluntary work."
Giorgio Del Zanna from the Community of Sant'Egidio said, "We must work together to face a double epochal crisis, namely war in Syria and EU countries' inability to adequately respond to immigration. In an environment in which walls and antisemitism are on the rise, an adequate response would be a sympathetic friendship with communities of believers who get together and build bridges – this is the spirit in which Jews and Christians are welcoming this Muslim family."
Translated by Claudia Azzalini and revised by Mattia Stefani, both students at the Advanced School for Interpreters and Translators of Trieste University and interns at the newspaper office of the Union of the Italian Jewish Communities.