NEWS Kertzer about Pope Pius XII, "Let historians do their job"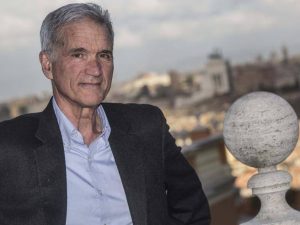 By Adam Smulevich*
"To impose a preconceived celebratory narrative, as if trying to protect something which should definitely be investigated, is a mistake. Unfortunately, many Italian newspapers have lent themselves to this misunderstanding over the last few weeks. It will be up to historians, and historians only, to work on this matter."
David Kertzer, Pulitzer Prize who has a deep knowledge of the Church history, especially in its complex relationship with Judaism, is one of the historians who gained access to the Vatican Apostolic Archive on Pope Pius XII's pontificate. One year ago, when Pope Francis had made the opening date official (2nd March 2020), Kertzer had announced to Pagine Ebraiche, "One thing you can be certain of – when that door opens on 2nd March, I will be there for sure". And he was.
We join him on the road which goes from the Vatican, where he will spend most of his time for several weeks, to the apartment in which he will stay in Rome. "Hard work awaits us, under severe conditions. Limited access, millions of documents to consult. However, to achieve full transparency and understanding of the Church history related to World War II, we scholars should gain access to two more collections. As I wrote on The Atlantic, I am referring to the Jesuits' archive and the Historical Archive of the Vicariate of Rome." Kertzer does not give up, "Maybe in the future we will achieve this breakthrough."
"I think I know a lot about Eugenio Pacelli by now. I got an idea of him as a very intelligent and cautious man, whose main goal was to protect the Church's position of power in a time of significant and destabilising change," Kertzer had told us. Still, his non-obvious opinion is that something decisive may emerge from the Vatican Archive. Even on the famous "silences" which cast more than a shadow on his action in those years.
Calm, a careful analysis of documents, and a detailed study of each case and issue will be strongly needed. Anyway, having given access to scholars is still a considerable step.
Kertzer announced, "I plan on issuing a reliable and influential book on Pope Pius XII in a few years. Of course, the Archive will not be the only source. I have already gathered thousands of documents elsewhere." In the last few days, Kertzer has been studying at the Apostolic Archive. "Access is limited to 60 scholars, and yesterday there were 44. Not all of them are studying Pacelli's pontificate. I reckon it is about 25 of us working on this topic. What strikes me is that very few Italians are among them."
Kertzer himself risked not getting there due to his University's provisions against the Coronavirus emergency, among which was the need for a prior authorization to fly to Italy, which is subject to strict control. "Luckily – he smiles – I had already arrived here a few days earlier."
On the particular emphasis placed by the Holy See to some pro-Pacelli documents has commented the Chief Rabbi of Rome, Rabbi Riccardo Di Segni, interviewed by ANSA. "This sensationalism, with ready-made dossiers and prefabricated easy conclusions, is highly suspicious. But his words are enough to realise that even initial revelations will act as a boomerang for apologists by all means. It is already clear that he had no intentions of stopping the 16th October train, and that help only came to the safeguard of baptised people." The Chief Rabbi added, "After declaring that years of study are needed, it almost seems that the solution is pulled out on the first day like a rabbit out of a hat. Please, let historians do their job"
Translated by Claudia Azzalini and revised by Mattia Stefani, both students at the Advanced School for Interpreting and Translation of Trieste University and interns at the Newspaper's Office of the Union of the Italian Jewish Communities.