Assisi embraces the witnesses of the Shoah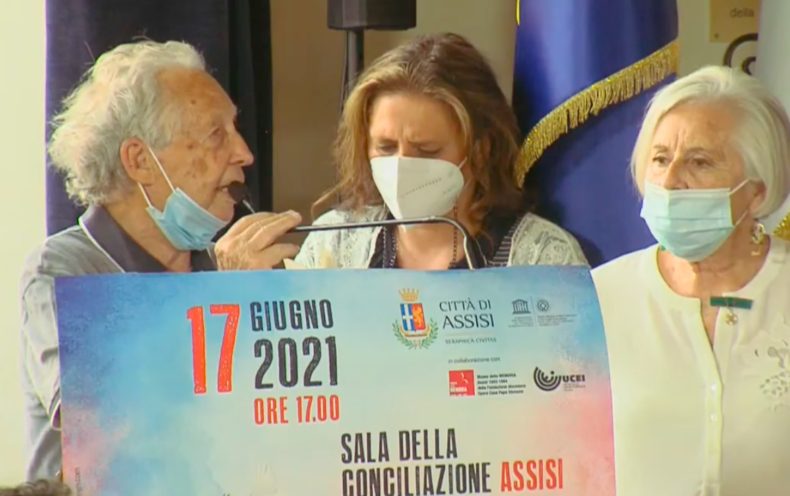 "With their testimony of life, they contribute every day to cultivating fraternity, building a future made up of collaboration and defense of the weakest, growing in mutual good, plowing the ground on which hatred grows, sowing peace, and making our country a better place". The commitment to Memory and the immense civil passion carried out by the witnesses of the Holocaust were solemnly recognized last week by the municipality of Assis, which conferred the honorary citizenship for peace to all the Italian survivors still alive. It is a "dutiful" and "heartfelt" act, stressed the mayor, Stefania Proietti. And this is because Memory, she said, "must be, in addition to being a value for respecting our past, also a responsibility of everyone, first of all of the institutions".
That carried out by Assisi is a unique initiative and it was unanimously approved by the the municipal council. The ceremony, which was available in streaming on the social media, was organized by the city administration, together with the Museum of the Memory of the Diocese and the Union of the Italian Jewish Communities.
"This day is the result of the vision of a special city", pointed out the mayor of Assisi Stefania Proietti. "A city that wants to erase hatred from the world". In this direction, she said, the commitment of the Shoah witnesses is decisive: "You give us the strength to have courage. You are an example, a beacon. For Assisi and for the whole world".
The Bishop Domenico Sorrentino recalled the war times, recalling the respect showed then towards the religious identity of all hidden Jews and the vast action that led to the salvation of hundreds of people.
The fundamental role of the Holocaust witnesses was stressed also by the President of the Italian Jewish Communities, Noemi Di Segni. "You are an example – she said – of what it means to do Memory, on how to remember". And it is a very timely commitment: "Anti-Semitism is re-emerging today in new forms, in subtle ways. That of Assisi is an important gesture. Memory is an act of collective responsibility".