Ebraica, the art of seeing the future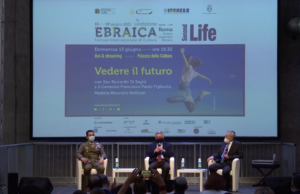 Second Life – a new opportunity. Ideas and debates for the creation of new dynamics "which are meant to support the restart of common living". A chance to rethink "both the life of each of us and common life". This was the challenge of the fourteenth edition of Ebraica, the international culture festival curated on behalf of the Jewish Community of Rome by Marco Panella, Ariela Piattelli and Raffaella Spizzichino, which took place last week.
The guest of honor was Army General Francesco Paolo Figliuolo, an extraordinary commissioner in the fight against Covid, who opened the festival with the meeting "Seeing the future" joined by the chief rabbi Rav Riccardo Di Segni and the director of the newspaper La Repubblica Maurizio Molinari. Live and simultaneously online on the festival's social channels, where many contents are still available, Ebraica focused on different topics. Among the many guests, the singer and actress Tosca, the choreographer Mario Piazza, the former director of Meis Simonetta Della Seta, the economist Raffaella Sadun, the writer Lia Levi, the singer Raiz, and the psychiatrist Raffaele Morelli. Here the link to Ebraica Festival Youtube channel.
"In recent years Ebraica has become a symbol. A cultural, artistic and emotional experience. We will talk about rebirth and try to give the sense of a vitality that Judaism has in its roots" said the president of the Jewish community of Rome Ruth Dureghello presenting the initiative. "We will do it with the strength, courage and determination that have always distinguished us". To Dureghello, the presence of Figliuolo at Ebraica "represents a recognition for which we thank the Army General and also all those who participated". In every historical event they went through – Piattelli then pointed out – "the Jewish people had to face a great challenge, of physical but also spiritual survival". The analysis of Rav Di Segni focused, as a whole, on "the challenge of restarting in Judaism".
Later, Panella recalled that the drive for change "has been at the centre of Ebraica for years". A topic that, considering also the health emergency, acquires further significance, which is related to an important awareness: "A second chance always exists". Second Life, Spizzichino observed, also means rethinking your own organization and offer. "The pandemic taught us that certain digital platforms are essential". Hence the decision to publish everything online as well. Maya Katzir, cultural attaché of the Israeli embassy, ​​then highlighted that Israeli intellectuals and artists are a constant welcomed presence at the festival. A place was also reserved for the representatives of the sponsors that support Ebraica, including Enel and Arsial.
Translated by Antonella Losavio and revised by Oyebuchi Lucia Leonard, students at Trieste University and the Advanced School for Interpreters and Translators of Trieste University, interns at the newspaper office of the Union of the Italian Jewish Communities.