Sailing away with the Israeli artist Ron Arad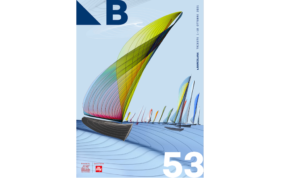 For the poster of the next Barcolana yacht race, the world's largest sailing regatta held every year in Trieste on the second Sunday in October, the renowned Israeli designer, architect and artist Ron Arad said that he studied the images of the past editions. "I wanted to convey a sense of movement, the presence of the water, but not a juxtaposition of images", he explained.
The result is a minimalist poster in which essential, sinuous lines give life to the very essence of a regatta: the sea, the boats and their sails. The artwork, which evokes nautical charts and maps, was officially presented last week. "Through his precise lines, Ron Arad highlights the essence of sailing, the sea, and our regatta", stressed Mitja Gialuz, president of the Società Velica di Barcola e Grignano yacht club which promotes the event. "This is how Barcolana53 introduces itself: the essence of the event, the tradition that brings sailing enthusiasts together, and the innovation that will take us far, all of us, in the name of the sea".
"Sea and navigation are masterfully interpreted by Ron Arad's creative genius, who managed to create a unique and deeply contemporary poster in terms of its aesthetic impact. An act of beauty and art, to pay tribute to the city of Trieste", said Massimiliano Pogliani CEO of illycaffè, which for twenty years has been partner of the event.
Entrusted with the artistic direction of the poster, after Michelangelo Pistoletto (2015), Gillo Dorfles (2016), Maurizio Galimberti (2017), Marina Abramović (2018), Olimpia Zagnoli (2019) and Lorenzo Mattotti (2020), for the 53rd Barcolana the company chose Ron Arad. The artist, who likes to conceptually re-draw shapes and structures, exploring different techniques designed the poster with a special brush that can reproduce traditional painting techniques in a digital medium. 
Through lines, colours and images, he invites us to begin a conscious journey along new routes. "Le Nuove Rotte" ("New Routes") is also the motto of the 2021 edition, highlighting the innovation that Barcolana brings about, creating new events both on land and at sea, new opportunities for local development, and new directions for the issues it strongly believes in – environmental sustainability and gender equality – and wants to promote through sport and a passion for sailing and the sea.