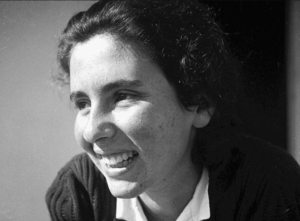 Hanna Sereni passed away last week at the age of 95. She was born in Rome on July 4, 1926. Her parents, Enzo Sereni and Ada Ascarelli, were among the symbols of Italian Zionism. In 1927, with Hanna still small, they decided to do the Aliyah. So, in 1927 the family moved to the then Mandatory Palestine, giving life to the famous kibbutz Givat Brenner. In 1944, at the age of eighteen, Hanna served as a telegraph operator in the Palmach, the Yishuv's regular fighting force.
In the same year her father Enzo was parachuted into Northern Italy to fight the Nazis and try to help the persecuted Jews. He was captured and deported to Dachau, where he was assassinated.
In those years, Hanna and her mother Ada continue their commitment to bring the Jews to safety in Eretz Israel. Hanna participated in the expedition of the ship Yehiam which in March 1948 managed to disembark hundreds of Jewish refugees to the port of Haifa. With the establishment of the State of Israel, she became the first telegraph operator of the Israeli Navy base in Tel Aviv. After her military service, she chose to become a teacher and moved in 1965 to Tel Aviv. She lived there until her death. May her memory be for a blessing.