Holocaust, Italian stories of accomplices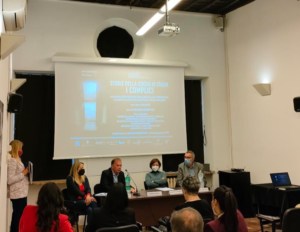 Rome, Trieste, Milan, Florence. The new documentary by the Museum of the Shoah Foundation journeys through four Italian cities to explore the period marked by Jewish persecutions. Titled "Storie della Shoah in Italia. I complici" "Stories of the Shoah in Italy. The accomplices", the film is curated by the historians Amedeo Osti Guerrazzi and Isabella Insolvibile and focuses on four experiences of betrayal and denunciation to investigate "the mechanism and personal motivations of those who wanted a Europe freed from Jews".
It is a journey through places and partly unpublished testimonies that aims, through an effective public history operation, "to tell a dark and almost completely forgotten page in the recent history of our country". That, precisely, of collaborationism, as the President of the Shoah Museum Foundation remarked in presenting the documentary to the press.
The purpose of the initiative is to "approach the public" and to do so in a certain way, anchoring to "conscious and very strong" foundations. It is a look at the Shoah "at a national level, as an Italian phenomenon" and "in an emotional way", as both Insolvibile and the director Alessandro Arangio Ruiz pointed out. In this perspective, the memories of the emotions experienced during the encounters with testimonies and the visits to the places that bear the marks of persecutions – via Tasso in Rome, the camp of Risiera di San Sabba in Trieste, the only Nazi concentration camp in Italy equipped with a crematorium, the prison of San Vittore and Villa Triste in Milan "will not fade".
On her part, Emilia Di Porto, who witnessed the Nazi-fascist persecution in the capital, addressed young people: "They must know the story and follow the path of humility and brotherhood ".
The documentary – which was broadcasted on RaiStoria and in the frame of Tg2 Dossier – was realized with the contribution of Roma Capitale and has the patronage of the Ministry of Culture, Ministry of Justice, Lazio Region, Department of Culture of Rome Capital, Union of the Italian Jewish Communities, Jewish Community of Rome, Jewish Community of Florence, Jewish Community of Milan, Jewish Community of Trieste, Association of Sons of the Shoah.