Ferragni: "Liliana Segre example of determination"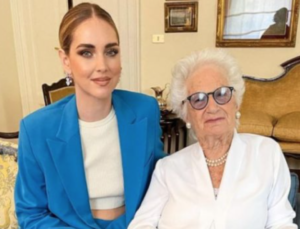 A photo with Holocaust survivor and Life Senator Liliana Segre, while waiting to visit together the Milan Shoah Memorial. Sharing a pic on her Instagram profile, top Italian fashion influencer and businesswoman Chiara Ferragni said last week that she had met Life senator in her house in Milan. "After speaking to her on the phone, today I had the pleasure to meet Senator Liliana Segre and get to know better her history and her determination. She's incredible", explained Ferragni, who Segre recently invited to visit the Milan Memorial along with her husband, Italian pop-rap star Fedez so to promote its message of tolerance and Memory.
While that visit is going to take place later on, the meeting between Ferragni and Segre drew a great deal of attention in Italy and on social media. Meanwhile at the Memorial Segre, on the occasion of the "Victims of hatred" conference organized by the Oscad (Observatory on discrimination), sends a clear message: "Every time life has given me the opportunity to fight hatred I have done it" but "still today someone turns the other way". The senator, who survived Auschwitz, recalled that she "experienced what it means to be an outcast and somehow I am still a victim of the hatred of keyboard lions, to the point that about three years ago my dear friend Minister Lamorgese imposed on me an escort".
"Even today they hate me and would like me dead. Although, – she added with the usual irony – they won't have to wait long, since I am almost 92 years old".
On stage, Minister of the Interior Lamorgese replied to Segre, explaining the need for an escort. "You were the victim of many threats and we had to protect you so that you can continue to carry out your precious witness work, to pass on the memory to us, so that we pass it on to our children".
Segre's words will resonate at the Memorial next week, on the occasion of the inauguration of its new spaces and of the hub that will be formed with the Contemporary Jewish Documentation Center Foundation – CDEC.