Altrove/Elsewhere – Food and Politics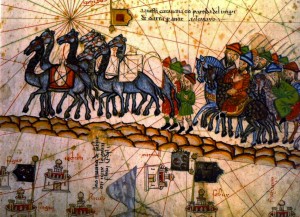 By Daniel Leisawitz*
This past Tuesday, President Obama returned to the world stage with a speech and conversation at the Seeds & Chips Conference on food and technology in Milan, Italy. Although the contents of Mr. Obama's remarks were non-partisan, politics was not far from the surface, as the New York Times headline declared: "Obama Speaks in Milan, with Food as Text and Politics as Subtext" (NYT May 9, 2017). That food and politics are intricately and intrinsically linked is undeniable: a fact which Michelle Obama must have quickly realized when her initiatives to promote healthy eating and reduce childhood obesity, such as her White House vegetable garden and the Let's Move! campaign, were met with vociferous and irrational resistance in some quarters.
The relationship is not always antagonistic, of course. Clara Sereni's influential memoir, Casalinghitudine (translated into English as Keeping House, SUNY Press, 2005), demonstrates the deep connections between food, memory, family, identity, and also politics. Clara Sereni is a writer, journalist, translator and activist, who was born in 1946 to a Jewish family in Rome (her father, Emilio Sereni, was a member of the anti-Fascist resistance and later a politician in the post-war period). Casalinghitudine recounts her childhood and young adulthood through stories accompanied by recipes that are tied to particular moments of her life. Sereni recounts her life in such as way as to emphasize the intersection of her home-life and her political-life, as when she discusses her involvement in political activist groups in the mid-70s when the Italian left was working for the legalization of divorce. After her recipes for pizza with eggplant, pizza with onion and pizza with greens, Sereni states: "In the seventies, during those elections that we had to follow until dawn to really know how they would turn out, where result dribble in gradually and without projections, the only solution was these pizzas. I would prepare them while the polls were open, and we would eat them casually as they came out of the oven" (60).
Political action requires sustenance, and healthful food requires political action.
*Daniel Leisawitz is the Director of the Italian Studies Program at Muhlenberg College (Allentown, Pennsylvania, USA). The artwork is by Abraham Cresques a 14th-century Jewish Spanish cartographer.