FOOD – "Bocca di dama" from Libya, the ultimate Passover dessert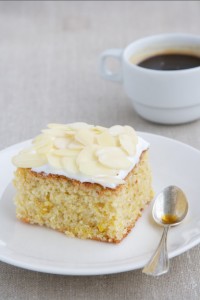 By Benedetta Guetta*

Bocca di dama, literally "lady's mouth", is a cake specifically designed to be kosher for Passover, but also a simple, gluten free dessert that is absolutely perfect year round: a real crowd pleaser.
The recipe for Bocca di dama is quite old: it came all the way from Libya to Italy with the Jewish emigrants who fled the country in the Sixties and arrived in Rome, where the community of Libyan Jews now flourishes.
Serves 8-10
300 g sugar
220 g almond flour or ground almonds
6 eggs + 2 egg whites
2 extra egg whites to frost the cake
80 g powdered sugar
slivered almonds to decorate
Preheat oven to 350°F. Coat a springform pan with cooking spray and line the bottom with parchment paper.
Process whole almonds in a food processor or blender until finely ground, unless you're using ready made almond flour.
Beat 6 egg whites in a large bowl with an electric mixer (use clean beaters on a hand-held mixer or the whisk attachment on a stand mixer) on medium speed until stiff peaks form.
In a large mixing bowl, with an electric mixer (or use a paddle attachment on a stand mixer) on medium speed, beat together egg yolks, sugar, almond flour and the remaining 2 egg whites until well combined.
Using a rubber spatula, gently fold the egg whites into the almond mixture until just combined, then scrape the batter into the prepared pan.
Bake the cake until golden and a skewer inserted into the center comes out clean, about 35 minutes. If the cake top looks like it's going to bake and brown too fast, cover it with foil.
When done baking, let the cake cool in the pan for 10 minutes.
Run a knife around the edge of the pan and gently remove the side ring, then carefully transfer the cake to a serving platter.
On a side, with an electric mixer on high speed, whip the 2 extra egg whites you kept aside with powdered sugar to obtain a soft, glossy frosting. In the meantime, let the slivered almonds toast for a couple of minutes in a pan, just until nicely browned.
Cover the cake top with the prepared frosting, then sprinkle with slivered almonds.
If you don't feel comfortable with eating raw eggs, you can broil the frosting with the overhead grill of your oven or with your cooking torch.
*Benedetta Guetta runs the blog Labna.it