ANNIVERSARY Honoring the Jewish Brigade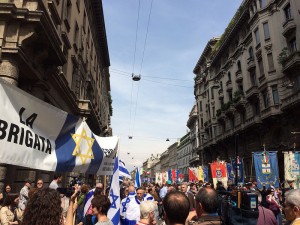 By Adam Smulevich
Every 25th April since the end of the war Italy celebrates the Liberation Day. On that day we give special honor to the banners of the Jewish Brigade, the body of soldiers arrived from Mandatory Palestine (the future State of Israel) to free Italy from Nazism and fascism. The call of the Allied Forces was greeted by those thousands of volunteers who, after a period of training in North Africa, contributed decisively to the breaching of the Gothic Line and the opening of strategic fronts throughout Central Italy.
Many Italians decided, on this 25 of April, to parade into the main squares waving the flags with the Star of David, the symbol of the Brigade who subsequently inspired the flag of Israel. Unfortunately, as in the last years already happened, the event was marred by incidents. Some scuffles between supporters of the Brigade and pro-Palestinian activists happened in Rome, at first near the Colosseum and then at Porta San Paolo. Some difficulties even in the city of Milan, where the memory of the Brigade was againinsulted by local movements supporting Palestine.
In a note published on the Corriere della Sera, the president of the Union of the Italian Jewish Communities Renzo Gattegna wrote: "Those who offend the memory of the Jewish Brigade offend the memory of the entire country and the terrible price that Italy had to pay for its freedom and to restore a normal course of events. This has than become the point of reference of values and inalienable rights that is, for all of us, the Republican Constitution".