MILAN JEWISH FESTIVAL – Pesach, Freedom and the City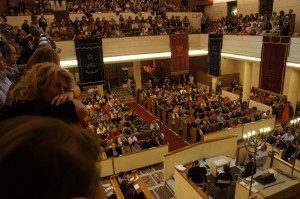 By Simone Somekh
The cultural festival Jewish and the City is reportedly set to take over Milan, Italy, for its second edition on September 13-16.
The festival, which debuted last year in the cultural agenda of the vibrant Italian city, is a four-day event and seeks to give a thorough look at contemporary Judaism through exhibitions, concerts, performances, debates and workshops.
The theme of this year's festival was announced to be "Pesach" – Passover – and will focus on topics such as the path to freedom. Among the coordinators of the event are Rabbi Roberto Della Rocca, director of the Department of Education and Culture at the Union of the Italian Jewish Communities and scientific director of the festival, Daniele Cohen, Councillor for Culture of the Jewish community of Milan, and David Piazza, creator of the project last year.
"We want to introduce ourselves to others – and, at the same time, to attract the Jewish people that do not attend our community events" explained Rabbi Della Rocca, who believes that the themes of exile and redemption bring a universal and current message about the role of weak and foreign people in our modern societies.
The festival will take place in the Guastalla neighborhood of Milan, specifically in historical sites such as the Central Synagogue, the University of Milan, and the Rotonda della Besana.
The festival started off last year for the first time, and it covered the topic of the Shabbat and hosted about 15,000 visitors, partnering with the European Day of Jewish Culture. This year it is going to expand by partnering with another major cultural event, the internationally renowned music festival MITO. The names of the special guests – among which last year appeared author Erri De Luca and New York Times columnist Beppe Severgnini – are yet to be revealed.
Follow Simone on Twitter: @simonsays101