IT HAPPENED TOMORROW Our Food Culture, Italy's Business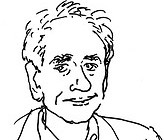 By Guido Vitale*
Parma, the charming city famed for its classical music connections and for its fine dining, aspires to be the Italian food capital both economically and culturally.
Italian Jews are increasingly showing how they can make an important contribution to this sector, reflecting both their ancient culinary traditions and their dietary laws. We witnessed a first step in this direction at the Cibus Parma International Fair, which came to its conclusion a few days ago.
Our goal of bringing together sometimes disparate worlds and to encourage occasions for dialogue and understanding is sometimes difficult to achieve, particularly in Italy, where a certain individualism and insularity often complicates communication between different spheres. However, at the Cibus fair it became clear that our renewed effort at spreading an understanding of kashrut and the Italian Jewish tradition has started awakening significant public interest.
It has been a privilege for us to act as catalysts for these exciting developments, and to see the significant attention that is currently being paid to the fact that providing the Italian food industry with greater accessibility to the multi-billion dollar international market for kosher food will generate great benefits both for Italian food producers and for discerning consumers around the world.
*Guido Vitale is the editor-in-chief of Pagine Ebraiche