EVENTS Memory and History in Trieste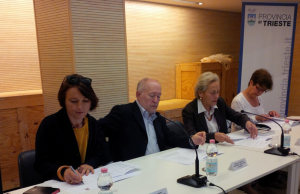 By Ada Treves
The loss of memory and of the sense of history that affect dramatically the era in which we live, have prompted local institutions in Trieste – the Municipality, the Department of Humanities of the University of Trieste, and the Jewish Community – to promote the establishment of a permanent laboratory on the relationship between memory and history.
In the last couple of years the Warehouse of Ideas (Il Magazzino delle Idee) has hosted the "Laboratorio della Memoria" ("Laboratory of Memory"), the result of a long process designed to promote and deepen the reflection around historical themes, with particular regard to the twentieth century, particularly significant for the region.
The Scientific Committee started to work on the project in 2012, and the result is the Laboratory: a study centre on the reconstruction of individual and collective memories, that also aims to fight their distortion, starting with the recurrent denial of the tragedies of the twentieth century.
In 2013 the main even has been the international conference "History and Memory", which has seen prominent representatives of today's international debate on the use of the past in historiographical and political discourse, from Ilan Greilsammer (Bar Ilan University, Israel) to Annette Wieviorka (CNRS, Paris) and Marcello Flores (Siena University, Italy). Two days on the use and abuse of history in the context of today's economic and political crisis that the western world is experiencing.
The "Memory of Trauma in the Twentieth Century" is the seminar that took place earlier this month, showing how the Scientific Committee of the Laboratory of Memory has taken seriously its mission. In the two sessions different experts have analysed what happens to memory and to the sense of loss after exile or an armed conflict, or after forced migration or racial discrimination. The individual and collective memories have been explored during the seminar not only from a historical and literary point of view, but also analysed by experts in neuroscience, to discover the physiological aspect of the trauma linked to the events that happened.
The crowd that followed the seminar was able to appreciate how the choice of addressing the issue in ways very different from each other has proved interesting. The disciplinary contexts have been more different, and the speeches, moderated by the historian Giacomo Todeschini (Trieste University) and by Anna Maria Vinci (IRSLM – FVG, Trieste) have made the dream of the founders of the laboratory come true. The laboratory reaffirmed the centrality of Trieste, not only a meeting place for all minorities, but also as a space for reflection and knowledge of their suffering, and of their rights.