LEADERS Solidarity in Brussels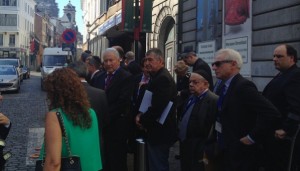 By Adam Smulevich
The leaders of the World Jewish Congress (WJC) and of the Belgian Government agreed to work together on issues related to improving Holocaust education and the fight against anti-Semitism, racism and terrorism. At the meetings in Brussels between a WJC solidarity mission comprised of 38 Jewish leaders with Belgium's Prime Minister Elio Di Rupo, Foreign Minister Didier Reynders, Interior Minister Joëlle Milquet and Minister of Justice Annemie Turtelboom, both sides agreed on the necessity of strengthening cooperation on a European and world-wide level to prevent further deadly attacks such as the one committed at the Jewish Museum of Belgium in Brussels.
"The arrest of the probable killer, the dynamics that seem to emerge in the background of the dramatic events in Brussels are proof of just how indispensable is to be aware of the danger that we face and at the same time to deeply invest in initiatives that could protect and secure all the citizens of Europe", the president of the Union of Italian Jewish Communities Renzo Gattegna commented participating in the event together with representatives from United States, Canada, Russia, Ukraine, Lithuania, Great Britain, France, Belgium, Switzerland and Netherlands.
WJC President Ronald S. Lauder was also joined by Maurice Sosnowski, president of the Coordinating Committee of Jewish Organizations in Belgium (CCOJB) who praised the reaction of the Belgian authorities as "exemplary" and said that Belgian Jewry is "in permanent, close contact with the police and the various government ministries.
"What we don't want is that a young generation of Jews grows up in fear", Lauder declared to the press.