OUT OF THE BOOT – David, Living A Double Dream in Tel Aviv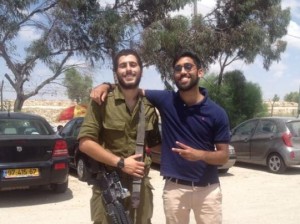 By Simone Somekh*
It is no secret – Italians are passionate people.
Those from the 'Boot' are well known for their enthusiasm, and so is David Bedussa, 20, a Roman born Jew who travelled all the way to Tel Aviv, Israel, in order to fulfill his two main dreams: studying Torah and working in the field of technological innovation.
It all began as David graduated from the Jewish high school of Rome and decided to spend one year in a yeshiva in Jerusalem. After two weeks attending a one-year program which included both religious and secular studies, he decided to switch to a different rabbinical school, the prestigious Yeshivat Hakotel, where he felt more comfortable: "At the yeshiva, I studied a lot, I learned Hebrew, I had new experiences," said David. "Throughout the year, I understood what life's real values are – respect, determination, and constancy."
The spiritual environment of the yeshiva, as well as its dynamic vibe, convinced David to stay in Israel for good. "In Israel I can live by my Jewish identity, one hundred percent. Moreover, here the economy is based on technology, a sector that I am obsessed with." In Tel Aviv, David is able to live by both religion and innovation, a fundamental binomial for him.
"Italy is scared of change," said David, who only discovered in Israel the concept of "startups". "Working in the field of startups is all about taking risks, and in Italy people are too wary. If you don't try, you are never going to succeed."
After one year in yeshiva, David enrolled in the renowned university of Bar-Ilan, in greater Tel Aviv area. There he is currently studying Communication and Media Studies in an international B.A. program partially taught in English. "I've never been a studious person, so when I started university I had low expectations. But I realized that if I study subjects I like, I actually enjoy it and I can get passionate about it" said David, who is now satisfied with his studies at Bar-Ilan and has a very international crowd of friends.
Along with studying, David is also working in Tel Aviv as a business consultant and analyst for Israeli startup companies.
This summer, as the rocket barrage from Gaza reached most of Israel, including Tel Aviv, the young globetrotter experienced war for the first time. "It's been a strange time. I'm usually attached to my routine, and war-time has upset it," he said. "I have a close friend – he's almost a brother to me – who was in Gaza fighting with the IDF during the Operation. I tried to pretend I wasn't worried, even though I was."
As most Israelis, David found himself constantly checking the news on his iPhone. Every time he received a notification from the Israeli news outlet Ynet, he would think of his Italian friend Andrea, fighting in Gaza.
Sirens didn't scare David so much, he stated. During this tough time, away from his family, he tried to be rational and consider that the percentage of likelihood that he would be hit by a rocket in Tel Aviv was extremely low. All he could do, he said, was studying more Torah: "It was my small contribute in this war."
Even though culturally he still feels Italian, the young Roman says he could never go back to Italy, both for his religious lifestyle and for the differences in the work ethic and mentality. However, he often flies to Rome to visit his family, which has been very supportive of his choice to move to Israel.
"I miss my mom's fettuccine. I miss the smiles of my nieces. I miss my brothers' reproaches. But I'm here to stay."
In the picture: David Bedussa (right) with his friend Andrea at the Gaza border in July 2014.
*Simone Somekh is a student at Bar-Ilan University, Israel, and writes as a freelancer for the Jewish Italian press.
Shirly Piperno, fashion styling and communication student at Istituto Marangoni, London, contributed reporting.